The family is together again and everything is going incredibly wonderful until everyone starts to get the hunger monster. Dinner won't be ready for another three  or four hours, what are you gonna do? I think everyone needed a snack and quick! Everyone was getting irritable and one of uncles was drinking a little too fast.  For Pirate Mom, easy and quick recipes are the best. Pizza is something most people love, so why not make it small, fun, and dippable? Let me give you my recipe and get ready to blow your families' socks off!
You will be needing nine simple ingredients to make these explosive little things. This recipe makes about 10-20 pieces.
Biscuit Dough ( One Pillsbury Dough)
Mozzarella Cheese ( 1 Block)
Marinara Sauce (1 Bottle)
Butter (4 Tbsp)
Italian Seasoning (1 Tsp)
Salt & Pepper (1 Tsp)
Pepperoni (1 Package)
Parmesan Cheese (1 Package)
Garlic (2 cloves)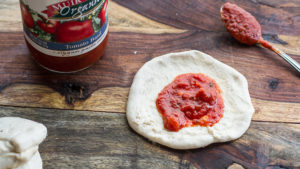 Now that you have your ingredients, lets get started. Prepare your oven at 375 degrees.  Open the dough and flatten them out as shown in the picture. If you have large pieces you may cut them in half and make more. Add a little bit of marinara sauce, a small piece of mozzarella cheese and a pepperoni. Fold the outsides over, flip, and place nicely on your lightly greased pan. I like to put waxed paper down too so the bombs don't stick to anything. 
Next you are gonna melt your butter, add in the Italian seasoning, salt, pepper, garlic and mix well.  Cover all of the pizza bombs with this lovely mixture and top with a little parmesan cheese. Set them into the oven for fifteen to twenty minutes until lightly browned. When done, plate it and add the remaining marinara sauce in a bowl for dipping sauce. Serve and enjoy. Watch out now, it will be wiped out before you know it!